Our markets
Many products were initially envisaged for a particular market sector and later customised for a new and very different application. Increasingly, Burkert's initiatives in niche markets are being developed to provide solutions in much wider applications, to the benefit of a greater number of customers:
Analysis
Automotive
Biotechnology
Chemical
Electronics
Energy
Genetic engineering
Semiconductor
Cosmetic
Food and beverage
Machine construction
Medical
Pharmaceutical
Textile
Packaging
Water treatment
Filling level control

Filling level control becomes much more than just average if intelligent components communicate with each other. For this purpose, Burkert is the only supplier on the market to provide a continuous-action; closed-loop control system with its own components which locally controls what otherwise can act only centrally and would thus be susceptible to faults. The advantages of this system solution are obvious: much higher system availability naturally cuts costs and this effect is even further enhanced by the smooth interplay of the "related" components from one single source. Uniform menu prompting, the same documentation and extreme ease of operation make filling level control with Burkert convincingly systematic and harmonious.
Temperature control
The higher the temperature, the higher quality the valve. Burkert follows this rule for control of temperatures with intermatched actuators, sensors and controllers for which a hot-water loop is also not a problem. The advantage relates to the system: all components for this application originate from one single source. And this means that the entire package can be designed and commissioned as simply as possible. Three effects are achieved: the high dynamics, a valve with excellent rangeability and construction of distributed control loops owing to the process controller integrated in the valve. That's all that needs to be said on the solution for a "hot" application. Naturally, however, you can also use our systems to come to grips with other temperatures. Why not just tell us your tricky problem and let our dedicated experts deal with the development aspects?
Analysis control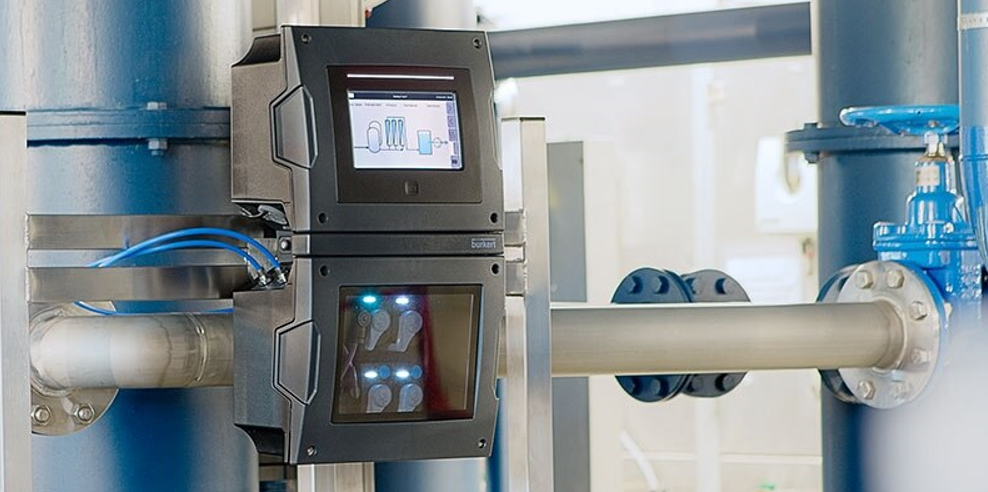 In open cooling systems, the water "becomes salty" as the result of evaporation. This is not a good thing, and necessitates the constant addition of fresh water in the required quantity. Burkert has a systematic solution to this problem. Incidentally, as the only supplier on the market, we offer an all-in control unit which "talks" locally. If the water becomes "too salty", the conductivity transmitter forwards this information to a controller which, in turn, triggers the corresponding supply line diaphragm valve. And this communication can be expanded easily to cover the pH value. Technology that is able to communicate conditions the quality of the water. Not centrally, in a manner susceptible to faults, but at the point of action and directly. Of course, this is based on systematic ideas that we offer for more than just cooling circuits.