Founded in 1983, with almost 40 years of entrepreneurial and innovative achievements, Robomatics has been successfully built and propelled a reputation as a pioneer and well established distributor, leading in the factory automation industry in Southern Malaysia. Robomatics has evolved and grown tremendously from a humble beginning in pneumatic and hydraulics industry, to expanding and developing in tandem with today's high technology automation industry.
Robomatics today offers sales and services in factory automation and system such as PLCs, control components, pneumatic fittings / valves, general purpose pressure gauge, pneumatic components, process controls, hydraulic components, lubricating oil supply systems, conveyors, signal towers, power packs, et-cetera.
Besides that, Robomatics has formed strategic alliances with companies such as Jiacheng, Shanghai and Cheng Hua, Malaysia as working partners to embark on joint venture business development programs. The partnership will serve to enhance commitment, trust, involvement & process orientation between the companies. We are confident with the pooling of technical resources and strength, we will remain competitive in today's fast changing world, to successfully meet the challenging expectations for further developments and market expansion.
Robomatics is innovatively sourcing new products with value added and high reliability qualities to meet the demands of an increasingly sophisticated market. We strive to provide our excellent expertise and commitment to our customers. Eventually, we take pride that Robomatics' endeavor have contributed towards the transfer of technology to our local market.
Our Vision
We are committed to trade in genuine goods at genuine prices, offering friendly and reliable ONE STOP solutions.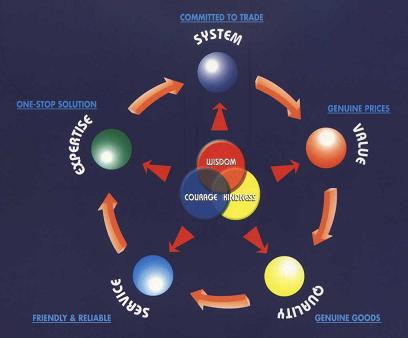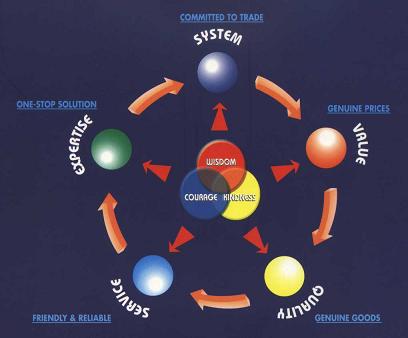 Our Mission
We strive to offer highly competitive prices to our CUSTOMERS to capture larger market shares and increase profitability through creative marketing and smart sourcing.

We create a homely WORKPLACE where self-motivated and open minded teams excel in an environment of trust, discipline and harmony.

We nurture our PEOPLE to have creative and global mindset to attain total customer satisfaction on delivering mindset quality and responsive services.

We strive towards a highly dynamic and dedicated open MANAGEMENT style where we empower our people to perform to their fullest potentials.
Company Motto


Our Company steadfastly believes in cultivating and upholding the virtuous "age-old" elements instilled in our Company Motto – "Wisdom, Kindness and Courage" as the guiding principles and values for our Company's practices and responsibilities.
Our Motto "Zhi Ren Yong" (Wisdom, Kindness, Courage) which expounds the expertise of our system has given added value and quality to our products, enabling us to provide the best service to our clients. Thus, we have adhered to our Company Motto in carrying out our Vision.
Company Branch
ROBOMATICS (M) SDN BHD – HEADQUARTERS
41A & B Jln Melaka Raya 8, Taman Melaka Raya,
75000 Melaka.Malaysia
Tel : +606-2848148 Fax: +606-2840148
ROBOMATICS (S.E.A.) SDN BHD
10A, Jalan Berkat 5, Taman Malim Jaya,
750250 Melaka. Malaysia
Tel: +606-3344883 Fax: +606-3356223
ROBOMATICS (JOHOR) SDN BHD
12, Jalan Kempas 5/5, Kawasan Perindustrian Kempas,
81200 Johor Bahru, Johor. Malaysia
Tel: +607-2380340 Fax: +607-2380342